Robots for assisted living, novel methods for software testing, and ways to collate massive amounts of data from satellite images, were just some of the exciting student projects presented at the Cornell Bowers CIS Undergraduate Research Experience (BURE) symposium, held August 11 in Gates Hall.
The symposium served as the closing ceremony for BURE, a 10-week, paid summer research program open to all undergraduates affiliated with the Ann S. Bowers College of Computing and Information Science. The program matches interested students with a faculty advisor and gives them the opportunity to gain hands-on research experience. Each week, students also participate in a research skills seminar, a summer faculty talk, and peer mentoring activities.
"We're really happy to hear about what you've been working on this summer, and we hope you get a chance to hear from other students about what they've been doing as well," said Justin Hsu, assistant professor of computer science and BURE's faculty lead, as he welcomed students to the symposium.
More than 30 students gave talks on their work. In the final event of the day, a panel of graduate students answered questions about daily graduate student life, research, and careers.
"Doing the research is really important. You've done that piece over the summer," said Kavita Bala, dean of Cornell Bowers CIS, in her opening remarks. "However, communicating both to experts and to lay audiences is also a very important part of the job because your ideas will not be appreciated if nobody has any idea what you did. That's also a useful skill for the rest of your life."
'Students at the forefront'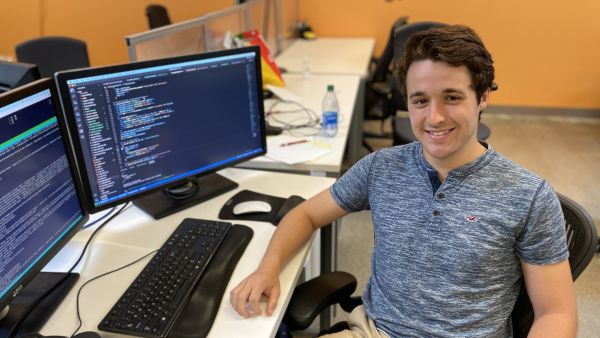 BURE participant Benny Rubin, a rising junior majoring in computer science, specifically selected Cornell for its top-tier research and emphasis on getting undergraduates into the lab. "One thing I love about doing research at Cornell is that they really put the students at the forefront of the research," Rubin said. "You really get to work on the things you find most interesting."
At the beginning of his sophomore year, Rubin began working with Nate Foster, professor of computer science, to develop a new approach for network verification. Large data centers at companies like Amazon and Google have billions of dollars riding on their networks working smoothly, Rubin said, but ensuring they remain online and functioning properly is a big challenge.
This summer, Rubin co-authored a paper on a new runtime verification approach for checking network function, which will be published at the ACM SIGCOMM conference in September.
"I would highly recommend anyone that even thinks they might be interested in research to give it a shot," Rubin said. "The skills you'll learn and the relationship you'll develop with the professor cannot be found in the classroom and are well worth it."
Joining the research community
On top of the research, BURE students also participate in a series of talks covering technical and career development topics and social events with fellow scholars and mentors.
Jason Klein, a rising sophomore working with Abe Davis, assistant professor of computer science, appreciated being part of a cohort of students going through the experience together. "I'm really fortunate to have a seat in the lab," Klein said. "The other undergrads and I are surrounded by Ph.D. students and we chat with them and eat lunch with them and help each other on the whiteboard."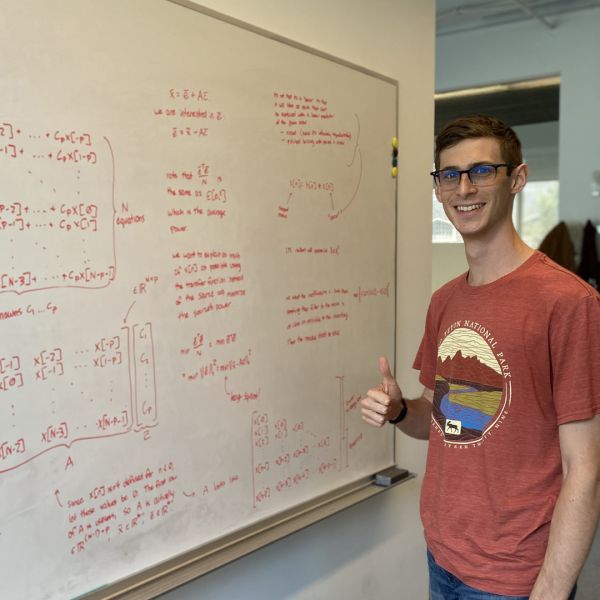 For his project, Klein developed an app that mimics a talkbox, a device that lets musicians modify the sound of an instrument with their mouth by piping music in through a tube.
"You can play guitar and it actually sounds like the guitar is forming vowels and speaking because the sound is vibrating inside your mouth in place of vocal cords," Klein said. (Think of the beginning of Bon Jovi's "Living on a Prayer.")
A talkbox creates real-time effects, but Klein's app lets the user separate the effect and the instrumental recording, making it easier to get quality takes of each. The user plays a song on the phone, holds it up to their mouth, and affects the audio by silently mouthing different shapes. The results are picked up by the microphone. Don't like the outcome? Users can pick a cover of the song and apply the same effect.
A sneak preview for grad school
For Ishani Chopra, a rising senior majoring in biological sciences and biometry and statistics, BURE has been the perfect opportunity to test the waters before committing to a Ph.D. program in statistics. Chopra has previous biology research experience, but after transferring to Cornell her sophomore year, she discovered a fascination with statistics and how analyses could be applied to research.
She said this experience has also helped cement what she has learned in her classes. "I feel like you don't know it unless you apply it," she said.
Chopra is working with Jaehee Kim, assistant professor of computational biology. She developed an improved statistical method for tuberculosis transmission that makes inferences about epidemiological and evolutionary dynamics in a population from sampled genetic data. After the bacterium that causes tuberculosis infects a person, it can go dormant for a period of time and can't be passed on. But most current computational methods in genetic epidemiology don't take this into account.
"We're trying to add a dormancy component so that it's more accurately modeled," Chopra said.
Despite some nerves, Chopra said she was excited to present her work at the final symposium. "It's a really nice opportunity to be able to speak in front of really smart people."
Patricia Waldron is a writer for the Cornell Ann S. Bowers College of Computing and Information Science.