Darren Key '25 was tired of listening to the same lofi hip-hop songs over and over again while studying. "I love lofi music," he said. "My thought process was, if I create an infinite radio of lofi music, it would help me study better."
So, the computer science major made his own endless stream of AI-generated lofi hip-hop music by turning songs into an array of numbers, and taking a similar approach to Stable Diffusion, a AI text-to-image generator. He admits that the music isn't quite good enough for studying – he's still tweaking the AI – but the project was impressive enough to earn him an award at the Bits On Our Minds (BOOM) technology showcase, held April 27 in the Duffield Hall atrium.
After a three-year pause due to COVID-19, BOOM returned to campus for its 25th anniversary. The event started in 1998 as a small showcase for computer science students, but is now hosted by the Cornell Ann S. Bowers College of Computing and Information Science and features cutting-edge technology projects from across the university. Nearly 100 students presented 32 projects in an atrium packed with visitors from Cornell and the broader Ithaca community.
Faculty from each department within Cornell Bowers CIS and representatives from seven corporate sponsors judged the projects. Selected teams received a trophy, certificate, and $750 prize; Kavita Bala, dean of Cornell Bowers CIS, announced the awards.
"BOOM is a unique opportunity for students to demonstrate their technology projects to everyone from school kids to industry experts," said Danica Rickards, program coordinator in Undergraduate Student Services, and BOOM committee chair. "They have a chance to really hone their elevator pitches and get input from corporate sponsors."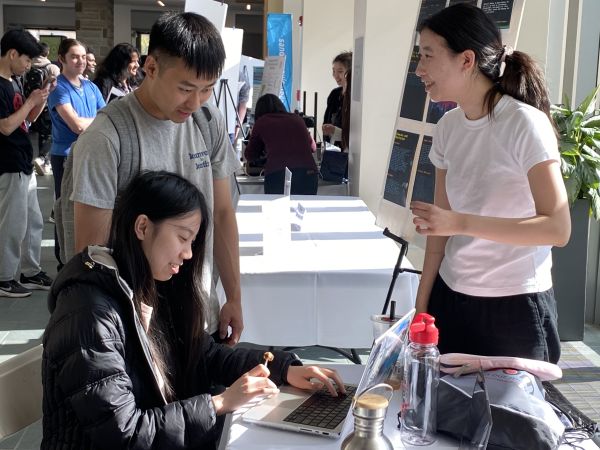 The projects included Ithaca Hunt, an app to help new students explore off-campus activities with friends; Tree Folio, a city planning tool that converts remote sensing data collected by airplanes into a digital map of each tree and the shade it provides; and The Bookkeeper, which looks like a stack of books, but locks away mobile devices for a set time to help users focus.
The Ithaca High School's Code Red Robotics team also attended the event with their 4-foot-tall robot, which lifts traffic cones and other objects and maneuvers around to deposit them on shelves.
One popular project was Cosmic Swing, a computer game created by Francisco Kyriacou '24, Ankit Lakkapragada '25, Emily Hong '23, Matthew Karwan '24, and Joseph Tung '24 for their CIS 3152 Intro to Game Development class. The team brought the game to BOOM to get feedback from users before putting on the finishing touches. The main character is a Martian who swings through spinning worlds using a rope-like appendage to collect resources for their dying home planet.
Ana Suppé '23, an environmental science and sustainability major, and Griffin Blotner '24, an information science major, came to BOOM to present their initiative to increase e-waste recycling on campus. Currently, there is one e-waste drop box at Barton Hall, and the campus recycles more than 100 tons each year, but that number has remained stagnant for more than a decade.
They hope to create greater awareness of the issue and to work with Cornell Bowers CIS, Cornell Engineering, the campus sustainability office, and Student and Campus Life to expand e-waste recycling options. "We've been talking with Facilities Management and other groups to get the ball rolling," Suppé said.
All BOOM projects and descriptions are listed here. The awarded projects were:
Sponsor Awards (sponsors listed first)
· Air Liquide: Tree Folio
· Boeing and LinkedIn: Xenophobia Meter
· EY: Volume
· Goldman Sachs: Using VR to study food consumer behavior
· Pepsi and Sandia National Labs: AI-Learners
Faculty Awards (Departments listed first)
· Computer Science: LoFi Hip-Hop
· Information Science: Hack4Impact Earth Law Center Project
· Statistics and Data Science: Tree Folio
By Patricia Waldron, a writer for the Cornell Ann S. Bowers College of Computing and Information Science.