Learn about Phil Yuen, Cornell Computer Science alumnus from 2000, directed the energies of his corporate enterprise, Aurabeat Technology, to address the need for clean—virus-free—air at Cornell during its careful and ambitious plan to reopen campus in a limited way. Kaitlin Provost writes of Yuen's creative and generous act in "The Gift of Clean Air."
Yuen and his collaborators looked at their existing air cleaning products and moved swiftly to "fine-tun[e] ... filters to specifically target SARS-CoV-2." Yuen, who is CEO of Aurabeat, "wanted to bring the technology to people who need it, starting in his own community. Since the start of the pandemic, Aurabeat has successfully installed the new anti-viral filters in government buildings, hospitals, and blood donation centers throughout Hong Kong. Restaurants and gyms have been ordering units, and the company has also donated some to local schools and elderly homes."
The patent-pending Silver Ion Disinfection technology is part of what is making public spaces more inhabitable in the time of the novel coronavirus. As the company explains: "Aurabeat 's team of experts has developed [...] AHEAF technology" in which "acoustic energy causes rapid air vibration of the particles and greatly improve[s] the filtration efficiency and reduce[s] energy use and cost of consumables for sustainable air purification."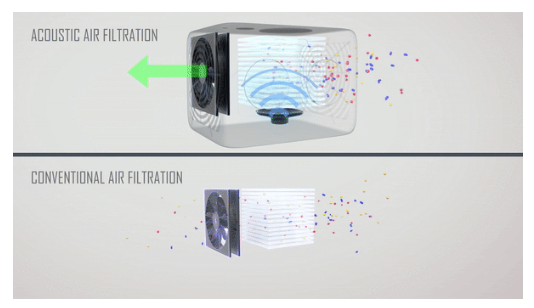 As Yuen, who was interviewed by CNBC about his product, recalls: "I saw on the news that Cornell was one of the few schools deciding to let folks back on campus and do in-person lessons," Yuen says. "And I thought, let's find a way to get our product out there and help."
As Provost notes, "Yuen also hopes his gift inspires other alumni to do what they can to support Cornell during the pandemic, whatever that might mean for them."