Modeling and Rendering for Realistic Facial Animation
In Proceedings of 11th Eurographics Workshop on Rendering. Held in Brno, Czech Republic, June 2000.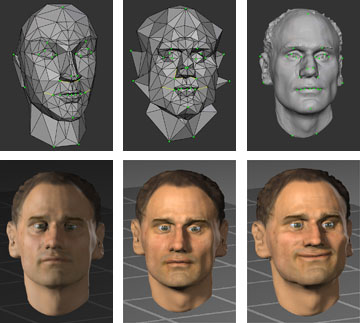 This paper begins with the detailed facial motion data that was previously produced by Brian Guenter, Cindy Grimm, and others at MSR and combines it with my earlier BRDF measurement work, an improved version of my previous technique for texture map measurement, and a new method for building structured geometric models of faces. The result is a complete face model that is accurate enough to render realistic facial animation under any lighting conditions.
Abstract
Rendering realistic faces and facial expressions requires good models for the reflectance of skin and the motion of the face. We describe a system for modeling, animating, and rendering a face using measured data for geometry, motion, and reflectance, which realistically reproduces the appearance of a particular person's face and facial expressions. Because we build a complete model that includes geometry and bidirectional reflectance, the face can be rendered under any illumination and viewing conditions. Our face modeling system creates structured face models with correspondences across different faces, which provide a foundation for a variety of facial animation operations.
Availability
This paper is available as a 550K PDF file or with less image compression as a 2.8M PDF file. If you don't already have it, you will need Adobe Acrobat Reader.
Copyright 2000 Springer-Verlag Wien. "Permission to make digital or hard copies of part or all of this work for personal or classroom use is granted without fee provided that copies are not made or distributed for profit or direct commercial advantage and that copies show this notice on the first page or initial screen of a display along with the full citation."
---
Steve Marschner