ACM Greater New York 2003 Regional Programming contest
The regional contest for the Greater New York region this year was held on November 9 at the New York Institute of Technology in Old Westbury, NY. Cornell has sent two teams to the battle.
Bill Barksdale (junior), Pet Chean Ang (junior), Xin Qi (first year PhD student).
Alex Harn (freshman), Dongjae Lim (junior), Bo Wang (junior).
Sixty teams from 28 schools competed. Cornell teams did pretty well. Our first team has won the contest, securing a place in the world finals this March in Prague. The second team took a nice 12th place. For more information, as well as the official standings, go to the regional contest webpage: http://www.acmgnyr.org.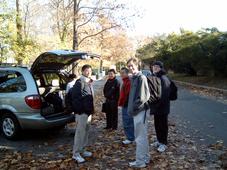 Sunday, November 9 in the morning. We just arrived to the NYIT campus.
| | |
| --- | --- |
| | |
| Our first team: Bill Barksdale, Pet Chean Ang, Xin Qi. | The second team: Bo Wang, Dongjae Lim, Alex Harn. |
| | | |
| --- | --- | --- |
| | | |
| Coaches waiting, discussing, and watching the scoreboard. | | Scoreboard one hour before the end of the contest. |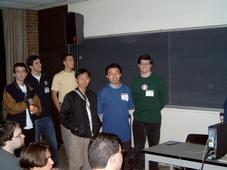 The winning team: Pet Chean, Xin and Bill. The three guys in the back are the Columbia team who finished second.

We would like to thank Greenhills Software for sponsoring the trip to the regionals.

(large versions of the photos)
---
Last updated 11 Nov 2003