Each year, Cornell computer science students participate in the International Collegiate Programming Contest (ICPC). Often considered the most prestigious programming contest in the world, ICPC is the oldest and largest algorithmic programming contest for college students. This year, the ICPC foundation hosted the inaugural North American Championship from February 19 to February 22 at Georgia Tech in Atlanta. Fifty-five top-tier university teams advanced from eleven North American regions competed for the title of North American Champion. After winning last year's Greater New York Regional contest, the team "Cornell TankCadets" won a bronze medal in this historic contest. After solving seven problems the team was ranked seventh.
Although falling behind in the initial four hours, the Cadets recovered—and entered medal contention—by solving two crucial problems in the last hour. In doing so, the Cadets showed off their signature perseverance, a trait which proved useful at clinching the win at the Greater New York Regional. "They practiced a lot and are well-prepared for this, so they don't give up easily," said team coach Haobin Ni. "They outperformed the predictions made by many analysts and proved the team's strength as Greater New York Regional Champion."
The official ICPC contests, including this year's North American Championship, have rules that foster collaboration, creativity, innovation, and the ability to perform under pressure. Teams of three (representing each university) worked together to solve a challenging problem set of ten-to-twelve problems in five hours. To solve a problem, a team must submit a piece of source code that could produce the desired output on all the test cases within the problem's time limit. The winner is decided by the number of problems solved and the time spent solving those problems.
In addition to earning a medal, Cornell also qualified for the ICPC World Finals, which is the grand finale of all official ICPC contests this year. All of the best teams on earth will gather in Moscow in June 2020 to compete for the title of ICPC World Champion.
The members of the award-winning team (from left to right in the photo) are: Horace He (Senior), Jyun-Jie Liao (Ph.D.), Aaron Lou (Junior), and Haobin Ni (Ph.D., Coach)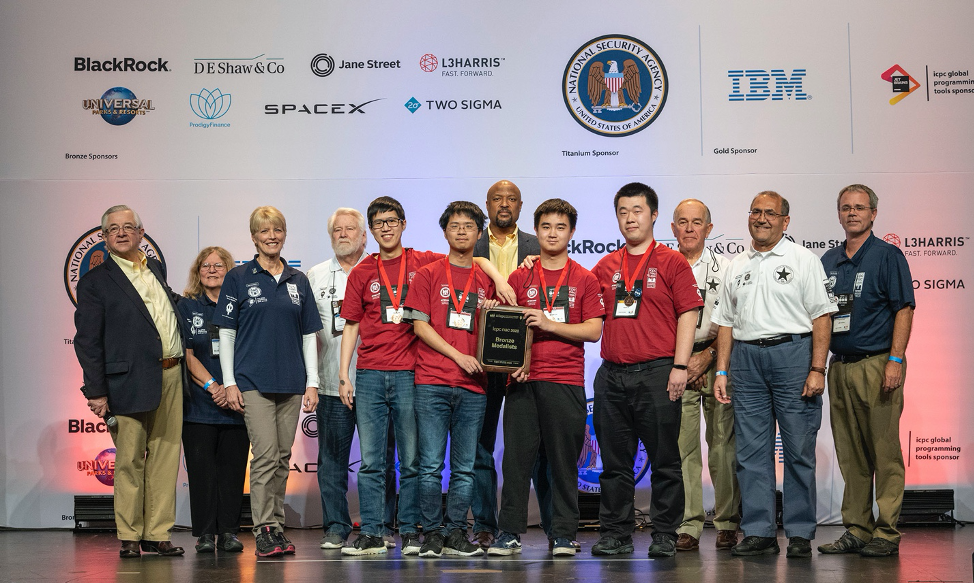 As a student organization, Cornell ICPC (previously known as Cornell ACM) is dedicated to providing resources and opportunities for Cornell students to succeed in programming contests and also in their careers. Besides participating in ICPC contests, Cornell ICPC also prepares our teams through training and organizing programming-related contests all year round at Cornell. They will be organizing the Cornell Big Red Cup, a yearly Cornell-based programming contest open to all undergraduate and graduate students, later this year. The organization also co-organizes CS 5199: Competition Programming and Problem-Solving Seminar with CS Professor Robbert van Renesse, a course aimed to provide a broader view of algorithms in practice and to strengthen students' skills in problem-solving.
Official team photo: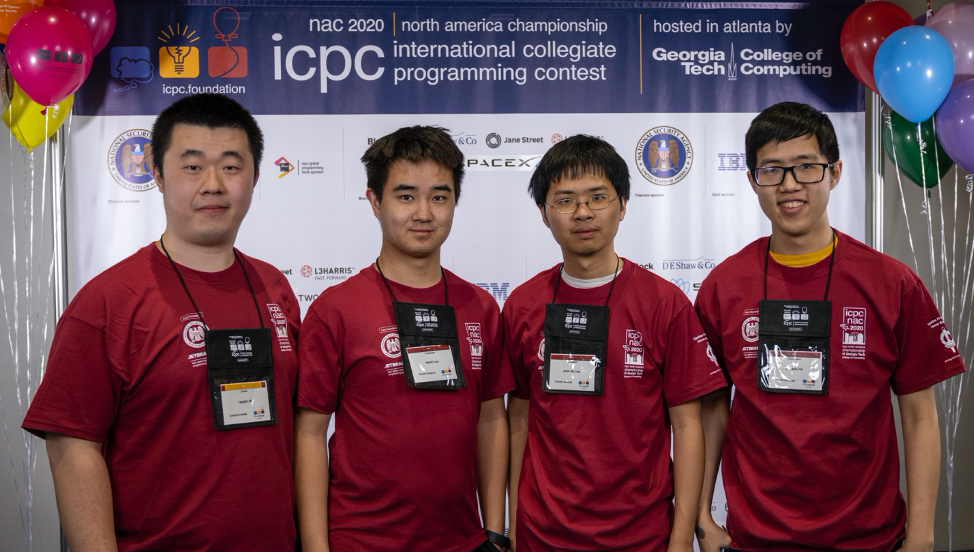 Follow the Cornell ICPC on Facebook.